Northern Tier Shelter Fellowship Program
The UW Northern Tier Shelter Fellowship Program was created to provide shelter leadership staff with additional training to help them deliver life-saving knowledge and services to our nation's communities and animals in need of care. This program is modeled after the highly successful Maddie's UW/UCD Shelter Medicine Veterinary Fellowship for shelter veterinarians. Up to two staff in leadership roles per shelter will participate.
The UW Northern Tier shelter fellowships provide unique opportunities for shelters in Alaska, Washington, Idaho, Montana, North Dakota, Minnesota, and Wisconsin to learn via interaction with the University of Wisconsin Shelter Medicine Program team and a variety of animal shelters from the Northern Tier region. In addition, fellows may have opportunities to interact with other academic and clinical programs, including other university shelter medicine programs as well as national animal welfare organizations.
The fellows will be able to put their new skills to work with their own shelter, directly benefiting shelter animals and communities. Additionally, the shelter medicine program will benefit from the infusion of practical experience brought by the Shelter Fellows. Many fellows will continue on with the program as alumni and mentors while working in or with shelters for years to come, greatly magnifying the impact of this investment in their training.
Keep an eye on our website news updates and facebook page where we will announce when we are accepting applications for the upcoming fellowship year starting January 2022. Applicants must be leadership staff working in shelters in Alaska, Washington, Idaho, Montana, North Dakota, Minnesota or Wisconsin. One application per shelter accepted, with up to 2 staff participating. Recommended staff are shelter directors or managers along with another key staff member. Shelters will be selected but individuals participating should be listed on the application with one applicant as the primary fellow.
2020/2021 Fellowship Shelters
Adams County Humane Society
Adams County Humane Society is a small humane society that was formed in the early 1970s by a group of concerned citizens. ACHS runs solely on donations from the community and sees roughly 300 animals a year and has a live release rate of 97%. They are committed to sensibly preserving and extending the health and welfare of all animals by fostering positive relationships between pets and people through adoption, spay/neuter, education, and promoting responsible pet ownership.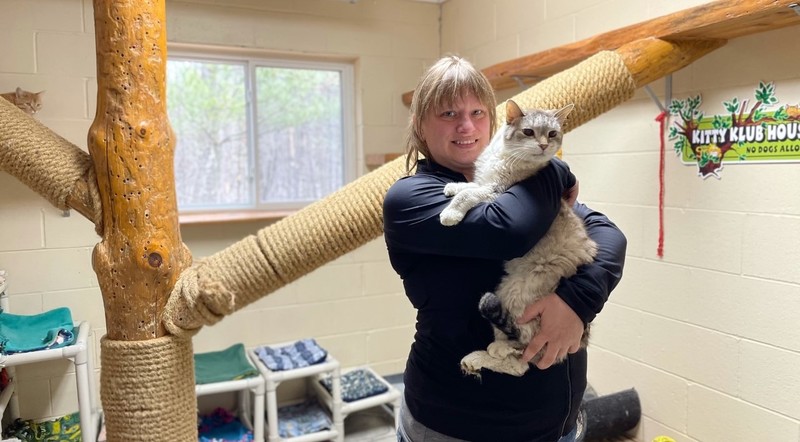 Cathryn Makurat started her career in animal welfare in 2007 after applying for an Animal Caretaker position at her local humane society, with the intention of gaining experience so she could transfer to working in a zoo. She soon realized that helping homeless animals was her passion and has never left the field. After 12 years, three humane societies and many hats later, Cathryn was asked to direct ACHS. Cathryn has been with ACHS for two years now and is excited by the changes this Fellowship will offer the animals and the community at ACHS. When Cathryn is not working she can be found reading, biking, hiking, swimming or snuggling with one of her six pets.
Alaska SPCA Adoption Center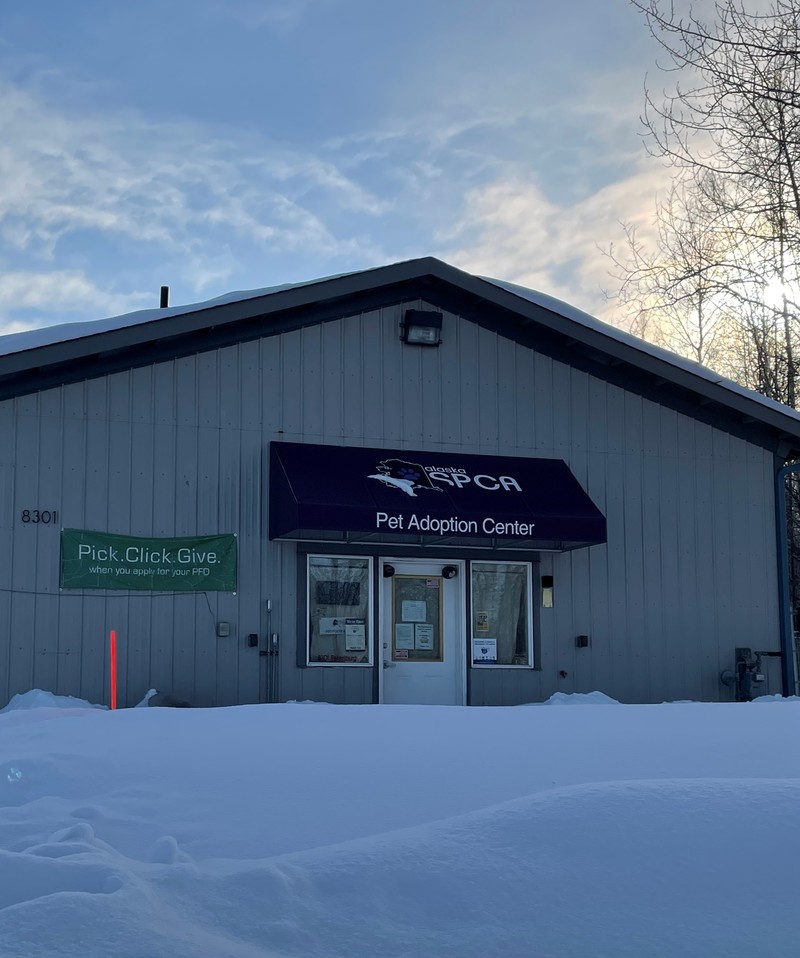 The Alaska SPCA is an organization that, since 1955, has operated to reduce the suffering of Alaskan pets. The Alaska SPCA offers low cost spay/neuter and vaccination services, as well as operating an adoption center, food bank, and rural outreach. All pets who come through the adoption center receive any needed medical attention, and great effort is put into placing each animal with a wonderful home.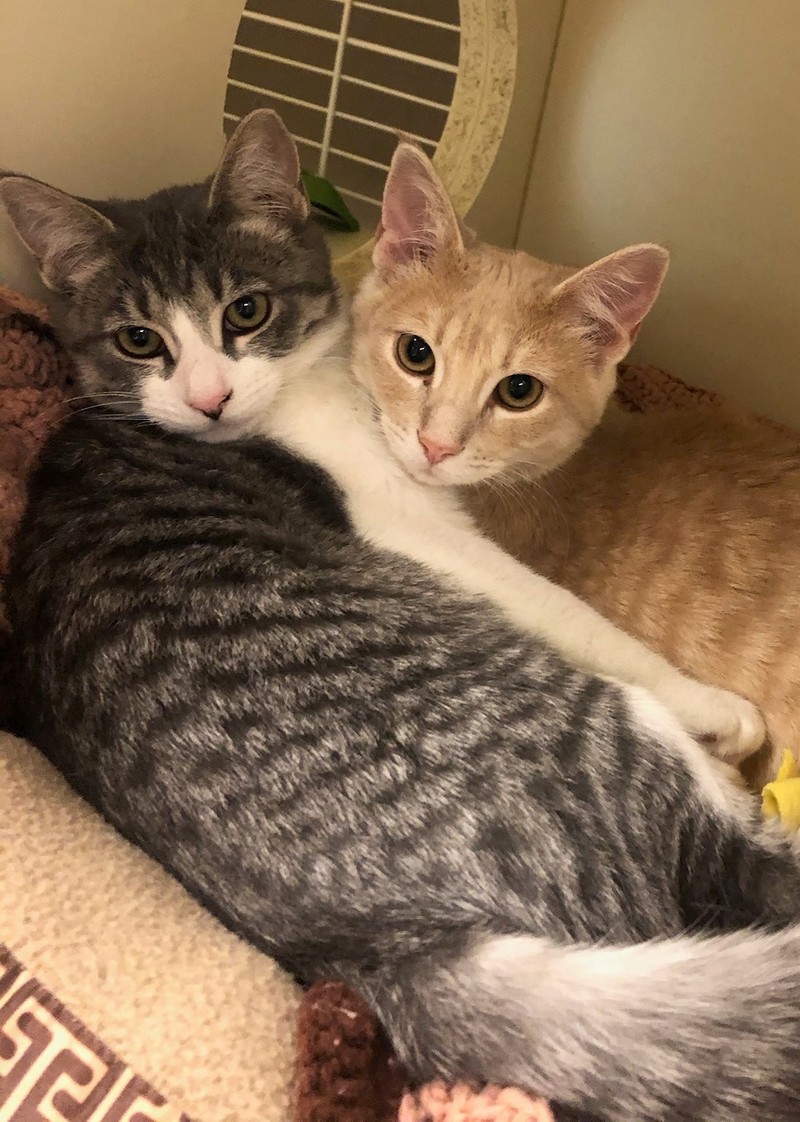 The Alaska SPCA also offers resources to pet parents in the area, whether that is advice on common animal behaviors or much-needed supplies. Our goal is to do all in our power to help animals, and their families, who are in need.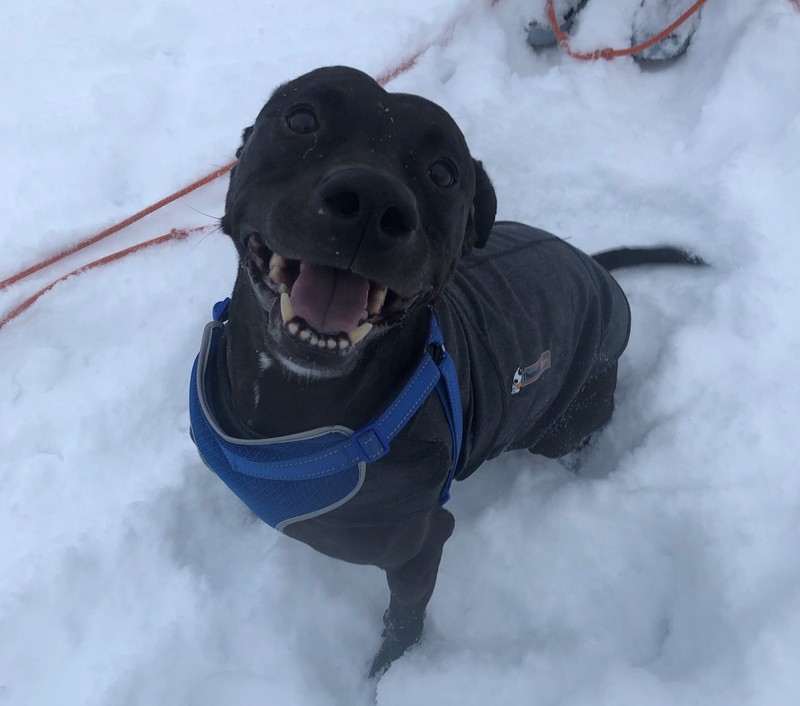 The dog in this photo is Abrams, and he is a staff favorite because of his wonderful affectionate personality. The kittens are Tidus and Yuna, who were adopted in a flash!
Humane Society of Southern Wisconsin
The Humane Society of Southern Wisconsin, based in Janesville, Wisconsin, provides shelter and humane care to lost and homeless pets, reunites lost pets with their families, promotes positive pet adoptions, and educates the community in order to inspire compassion and responsible pet guardianship. Started in 1910, and originally named the Rock County Humane Society, the Humane Society of Southern Wisconsin has maintained a constant commitment to securing safe and loving homes for every adoptable animal, and humane treatment for all.
Janean Boss-Anderson is currently the Operations Manager/CVT for the Humane Society of Southern Wisconsin after getting recently promoted. Her passion for animals started as early as she could walk. Growing up on a dairy farm with cattle, horses, dogs, and cats, she was an active member in the local 4-H and FFA programs showing dairy, beef, horses, and rabbits. She continued her passion for working with animals and graduated from Globe University as a Certified Veterinary Technician in 2012. While still in college she started her animal welfare journey at Green County Humane Society in 2011 and hasn't left the industry as she fell in love with it. She has worked with many nonprofit shelters and rescues. Helping the less fortunate animals find their second chance at love is the most rewarding part of the job. When not working, she enjoys horseback riding, showing cattle, spending time with her dogs and most of all spending time with her husband and 2 kiddos on their dairy farm. She is very excited to be a part of the Northern Tier Fellowship and continue helping more animals.
Idaho Falls Animal Shelter
The Idaho Falls Animal Shelter in Idaho Falls, Idaho, is the only municipal shelter in Bonneville County, Idaho. The shelter is owned and operated by the City of Idaho Falls and serves as the only animal shelter in an approximately 1,900 square mile radius. The mission at the Idaho Falls Animal Shelter is to provide top-notch services to the City of Idaho Falls and its residents. The shelter assists the community in answering questions and finding solutions to animal-related problems. Its staff, which includes 10 full-time and part-time employees, responds to protect the animals of Idaho Falls every day from cruelty and neglect. They also rescue many animals that are in danger and/or injured every year. Their officers are authorized by Idaho state law and City of Idaho Falls ordinances to enforce animal related laws.
Danyelle Harker has always had a passion for animals, adopting her first animal from the Idaho Falls Animal Shelter at the age of 16, the cutest little Pit bull mix named Tank, and she never slowed from there. She started volunteering for the shelter shortly after she graduated high school and focused on rescuing the true underdogs - Pit Bulls. She then transitioned her role to Animal Control Officer and has been employed with the Idaho Falls Animal Shelter for over 10 years and hopes to continue her life-saving efforts for many years to come. At the time of her hire, the euthanasia rate for cats was over 80% and the rate for dogs was around 50%. Through hard work, perseverance, and literal blood, sweat, and tears, the Idaho Falls Animal Shelter now has an overall live release rate of 97%. The Idaho Falls Animal Shelter now runs a very successful TNR and SNR program, a hearty foster program, and they have no plans to stop the progress. The shelter is now focused on reducing their length of stay and is already well on their way to accomplishing that goal.
Mountain Humane
Mountain Humane in Hailey, Idaho, is on a mission to change lives by connecting people and pets. They are a private shelter with municipal contracts. They are an animal adoption center, transfer coalition partner (Idaho & National), foster center and veterinary clinic. They were the first HSUS granted rural PFL (Pets for Life) participant in 2016 and used as a national model for rural outreach through PFL. Mountain Humane collaborates locally with the Hunger Coalition, The Advocates, and authorities assisting
individuals incarcerated for non-violent crimes. Their surrender deferment efforts are supported by their behavior and training team, medical team, and managed intakes.
Lauren Ponder is the Kennel and Transfer Manager at Mountain Humane. She has only been working in Animal Welfare for two years, but spent her entire youth helping animals. She's finally getting the chance to make a difference on a larger scale, and is so excited to be a part of the Northern Tier Fellowship.
Kelly Mitchell was born and raised in Rhode Island and graduated in 1993 from Rhode Island College with a BA in Economics and Business Management. As an avid skier she spent 20+ years working for the Sun Valley Resort as the Head Buyer/Retail Director. Personal life changes encouraged her to follow her dreams of spending her days supporting and improving the lives of people and animals – this led her to Mountain Humane. She spent her first 4 years as the Program Director but was recently promoted to Senior Director-Shelter Operations and Outreach. Creating and developing pet retention programs is her way of ensuring Mountain Humane's work supports people as much as it supports the animals. Each success story motivates her to do more. She enjoys spending her free time with her daughter and their animals – together they have 2 horses (Mellow and Ringo), 1 miniature horse (Reba), 1 dog (Bruno), and 2 cats (Willa & Walter).
Snake River Animal Shelter
The Snake River Animal Shelter (SRAS) is the only non-profit animal sheltering facility serving all of East Idaho, located on the banks of the Snake River in Idaho Falls, ID. The community needed a non-profit shelter that would offer education opportunities on the humane treatment of animals as well as implement innovative programs to alleviate the problem of too many unwanted domestic animals. All of the animals
that come to SRAS are given an unlimited length of stay, but the shelter's primary goal is to find every critter in their care a forever home as soon as possible. The Snake River Animal Shelter's vision is to be the leader in their region through operational best practices and impactful programs to increase the number of animal lives saved. They improve the well-being of animals and people by bettering the quality of life in their community.
Nick DeFilippis came to the Snake River Animal Shelter in 2019. Originally, as a favor, he came to "help out" temporarily at the shelter. It did not take long for him to learn that he had a passion for helping animals find their new forever homes. Abandoning his career in Computer Networking, he decided to devote his time fully to the shelter. He quickly rose from "temporary help" to front end manager, then to Facility Manager. When not at the shelter, he enjoys being in the outdoors and most of all spending time with his daughter.
Whitman County Humane Society
The Whitman County Humane Society is a non-profit/no-kill shelter located in Pullman, Washington. With a tiny staff (currently 5 employees), they are very proud to offer services to the humans and animals within their county alike! With Spay/Neuter Assistance Programs, microchipping to the public, and their foodbank services to name a few, they work hard to be a resource for their community. Their main focus for 2021 is shortening their length of stay and counseling to keep as often as possible!
Shelby Vasquez is currently the interim Director of Shelter Operations at WCHS. Shelby began her professional work with animals at the Clinic for the Rehabilitation of Wildlife in Florida! Since then, she has worked with many different types of animals including bighorn sheep, domestic sheep, cats, dogs, exotics, and other wildlife! She was a volunteer for the shelter for a long time before joining the team almost 3 years ago. She loves working with animals and knows that it will always be a big part of her life! Her favorite part of being the Interim Director of Shelter Operations is being able to help work with owners to keep their pets and seeing them fall back in love with their furry companions! She also enjoys working with the veterinary team and learning new medical-related skills.
Annie Lindsey grew up in a small town in Colorado and then attended Metropolitan State University. She transferred to Pullman her Junior year and has been involved with WCHS since her very first day in town! She started as a volunteer and dedicated foster parent, then was hired as an Animal Care Attendant/Adoption Counselor. Her favorite part of this job was seeing families come in looking for their perfect pet, and sending them out the door happy and excited for their newest addition! She was promoted to Foster Program Director position in the middle of the shelter's craziest kitten season yet! The foster program has been booming since, and they are so excited to see how it continues to grow! She is currently balancing the Foster Program Director and Interim Assistant Director positions beautifully!
2019/2020 Fellowship Shelters
Auburn Valley Humane Society
Auburn Valley Humane Society is a private, non-profit shelter established in 2013 to provide animal services to the City of Auburn, Washington. Each year AVHS has an annual intake of approximately 2,300 animals, and maintains a live release rate of 98%. AVHS is proud to be a community education center where pets and people can come together. Additionally, AVHS has created sustainable employment, offers countless volunteer opportunities, and has a variety of programs available to the public to assist them with their pet related needs. It is Auburn Valley Humane Society's vision to continue its efforts in being a model of excellence in the advancement of animal welfare.
Julia Sauer began her journey in animal welfare on her very first day of volunteering at Metro Animal Services in 2013. She was quickly sought after by staff to manage daily shelter operations including adoptions, pet licensing, and the volunteer program. In 2015 Julia was promoted to Animal Control Officer where she began her career in enforcement. Here she took on the daily challenges of investigating reports of animal bites, cruelty, and neglect in a large jurisdiction of 7 cities within Pierce and King County. In January of 2018 Julia started a new adventure with Auburn Valley Humane Society as Director of Public Services. Julia oversees daily shelter operations in addition to the pet licensing program for the City of Auburn. She continues to develop and implement shelter policies and procedures to further develop the organization's growth by creating innovative ways to limit barrier to adopt. Outside of work, Julia enjoys rock climbing, mountain biking, hiking with her Doberman Peter Parker, and winning a slightly competitive game of pickle ball with her wife.
Blue Mountain Humane Society
The mission of Blue Mountain Humane Society, situated in Walla Walla, Washington, is to prevent cruelty, promote kindness, and foster the human-animal bond. Its vision is to end pet overpopulation and homelessness and to inspire a compassionate community. Blue Mountain Humane Society was founded in 1967 by a group of local residents committed to creating positive outcomes for animals in the Walla Walla Valley. Over the years, the Society has grown and evolved to include a humane, state-of-the-art no-kill shelter facility designed to serve companion animals.
Homeward Pet Adoption Center
Homeward Pet Adoption Center's primary goal is to find new, permanent homes for every homeless dog and cat it takes in.  Located in Woodinville WA, since 1990 they have found homes for more than 33,000 animals.  The staff is knowledgeable and experienced at helping match adopters and pets based on lifestyle, experience, the needs of the animal, and other important factors.  Upon arrival at Homeward Pet, every animal receives a full medical evaluation and appropriate treatments, vaccinations and surgeries, including dental care.  Every animal
adopted is spayed/neutered and microchipped.  Positive behavior training is provided by their certified Animal Behavior Manager and a team of trained volunteers.  Both cats and dogs experience enrichment activities while at Homeward Pet that includes everything from "squirrel TV" for the cats to multiple daily walks for the dogs.  Community programs include public spay/neuter days, Homeward Pet Food Bank and a newly launched program, Homeward Vet – Companion Animals for Veterans, that provides waived adoption fees for military veterans.
Homeward Pet's Executive Director, Nanette McCann, has been with the organization since December 2018.  With more than 25 years of non-profit leadership experience, Nanette was excited to join a team of committed staff, donors and volunteers dedicated to ensuring every dog and cat that enters Homeward Pet has the best possible outcome.
Idaho Humane Society
Idaho Humane Society's mission is to advocate for the welfare and responsible care of animals, protect them from neglect and cruelty, and promote humane education, awareness, and compassion.
Although Dee Dee Bowring has been passionate about animals her whole life she never worked "in the field" but she found her first real job in animal welfare at the ripe old age of 40! She went to the Idaho Humane Society to spay two kittens she had got off Craigslist. There was a sign saying part time customer service help needed, she wasn't working at the time so she thought, this could be fun! She started part time in 2004, holding front desk and shelter animal care positions prior to taking over as the shelter manager in 2008. Recently she was promoted to Director of Shelter Programs and looks forward to supporting current programs and developing new ones! She
has three dogs of her own: Piggle, Bindi and Gibby (pictured). In her spare time, she loves to read, write and binge watch documentaries.
Krystal McGough works Monday-Friday, but is reachable most every day of the week if need be. She is the Admissions Manager for the Idaho Humane Society in Boise, Idaho. When not working she loves to hike and camp in the mountains and exploring new places, especially if her dog gets to come along for the ride. If she is not off on an adventure, she can most likely be found on the softball field, or at home wrapped up in a blanket with a book.
Mountain Humane
Mountain Humane, located in Hailey, Idaho, is on a mission to change lives by connecting pets and people.
Nadia Novik, Director of Outreach at Mountain Humane, has worked just about every role one can in an animal shelter. From veterinary technician, to Operations Manager, to her current role, she has seen the exciting changes within the field. A move back to New York in 2006 gave her an opportunity to work with the Cornell University College of Veterinary Medicine Shelter Medicine Department as well as manage the SPCA of Tompkins County, two experiences that helped broaden her understanding of animal welfare. Currently, she leads the Pets for Life program and can often be found out in the community building relationships with people and their pets. She also works closely with shelters throughout the state of Idaho and beyond, offering support and insight to help shelters find homes for their adoptable animals. With a broad range of experience in the field of animal welfare, she has become a resource on topics ranging from TNR to creating sustainable practices within the shelter.
Watertown Humane Society
The Watertown Humane Society was incorporated in 1969 and provides animal care services for the areas of Watertown, Waterloo and other municipalities in the area. In 2019, the limited admission shelter had over 800 animals through their door with a 96.5% save rate! The shelter provides adoption, stray and owner support services to the community along with a robust volunteer and community support program – a pretty great feat for the "Little Shelter with a Big Heart."
Cassie Richardson is the President of WHS. Richardson is a Madison native, and graduated from UW-Madison with a degree in Agricultural Journalism. She later spent five years managing the budget at the 115th Fighter Wing, Air National Guard in Madison, WI, but found animal rescue tugging at her attention. In 2010, she quit her position at the Fighter Wing and started Remember Me Ranch Rescue and Sanctuary. This adventure brought her much experience in building a small shelter from the ground up in addition to grassroots fundraising and volunteer development.
Richardson moved to Lake Mills, Wisconsin in 2015, and joined the board of directors of WHS in 2017 as the Treasurer for the organization, and became the President in 2019. She has been involved in implementing new policies and procedures at the shelter to include exploring solutions on reducing the length of stay with the UW-Madison Shelter management team.  She's looking forward to more growth through innovation, and can't wait to implement more enrichment and behavioral strategies for their residents!
Wisconsin Humane Society
The Wisconsin Humane Society is committed to providing protection, shelter, and care for wild and homeless animals. Founded in 1879, the Wisconsin Humane Society has been saving the lives of animals in need for more than 140 years. WHS is a 501(c)(3) organization and operates animal shelters in Milwaukee, Ozaukee, Racine, Door and Brown Counties, as well as a spay/neuter clinic in West Allis.
Alison Kleibor is the Director of Animal Sheltering for the Wisconsin Humane Society (WHS). Alison has been with WHS since 2007 and has held a variety of positions. As the Director of Animal Sheltering, Alison oversees all animal care, client services, foster, veterinary support, and transfer functions for the organization's sheltering locations.  In addition to pursuing a Master's degree in Veterinary Medical Sciences from the University of Florida, Alison has attended animal cruelty investigation training as well as animal control and humane officer trainings.  She is a Certified Animal Welfare Administrator (CAWA) and a Certified Humane Officer in the State of Wisconsin.  Alison has an MS from Alverno College, a BS from Marquette University, and a graduate certificate from the University of Florida.  Alison brings a passion for helping people and animals to her work and is fueled by a desire to learn and advance the animal welfare industry.
2018/2019 Fellowship Shelters
Flathead County Animal Shelter
The Flathead County Animal Shelter in Kalispell, Montana, the municipal animal shelter of Flathead County, is overseen and administered by the Flathead City-County Health Department. The shelter is an Open and Managed Admission Shelter and Adoption Center and provides a safe haven and humane care to homeless dogs and cats residing in Flathead County while they await permanent, loving homes. All animals at this shelter are spayed or neutered, vaccinated, licensed (dogs), and micro-chipped prior to adoption. It is the mission of the Flathead County Animal Shelter to provide a safe, healthy environment for abandoned and temporarily homeless dogs and cats until they can be placed in permanent caring homes; provide education and outreach on effective methods for reducing pet overpopulation, including spay/neuter and the advantages of choosing a shelter pet over breeding or buying; and support Flathead County Animal Control Officers in their efforts to enforce the County Animal Control Ordinance, enforce the Flathead County Rabies Control Program, and protect public health and safety.
Following college at (what was then) Chico State College in northern California, Cliff Bennett worked as a crops consultant in the north Sacramento Valley. He put that knowledge to use in a start-up farming operation (and later a 2nd start-up business in food-processing) about 5 miles from where his great, great grandfather settled in 1851. Moving to Lakeside, Montana, in 1992 to spend more time with his family, Cliff worked for 6 years in economic development (after his kids suggested he was becoming a pest to them). Following another retirement, the opportunity to become Director of the Flathead County Animal Shelter presented itself in January of 2010, and Cliff remains at the helm there today.
Humane Society of Western Montana
The Humane Society of Western Montana was incorporated in 1963 as the Missoula Humane Society. Historically, the Humane Society saw over 8,000 animals a year. But through the efforts of their members and founders, rallying for responsible pet ownership and spaying and neutering, these numbers have declined to around 1,350 animals annually. Because of the awareness and care of their community, the Humane Society guarantees the adoption of all adoptable pets. They are proud to report a 98% and over adoption rate since 2010. This percentage is comprised of all live outcomes, including adoption, return to owner, and transferred out. The Humane Society of Western Montana is committed to Saving Every Animal Every Time by being a leading resource for companion animals and their people throughout Western Montana.
Marta Pierpoint is the Executive Director of HSWM. Pierpoint moved to Missoula, Montana, twenty years ago, leaving her San Francisco law practice to join Triaxsys Research LLC as a partner. After serving as Vice President to Triaxsys for three years, Ms. Pierpoint switched gears to fuel a passion for education, serving on the Missoula International School Board for successive terms until joining the school as the Director of Advancement. During that time, Ms. Pierpoint fueled her other passion pets by being the first foster family (20 years ago) for HSWM. Later she served as a board member and board chair. After terming out of board service she re-joined the organization's legislative committee and for over a decade fought hard for animal welfare legislation at the state level. A little over two years ago she was honored and humbled to be hired as the HSWM ED. Pierpoint's favorite activities are hiking with
her dogs, skiing, biking and just plain coming to work. In addition to spay neuter, HSWM offers  behavior modification, medical care and every kind of enrichment that can be creatively managed to help pets find and stay in loving homes. This includes sleepovers for dogs, camp for cats, co-housing and naturally, office time. "Office time helps many pets de-stress.  My favorite office dogs are the big anxious ones who need a bit of extra love," says Pierpoint. The dog to the right (Gunner) wouldn't let anyone touch him. "One week of office time and he couldn't get enough love and really did NOT want me to leave to go make copies."
Regional Animal Services of King County
Regional Animal Services of King County provides King County, Washington, with sustainable, cost effective services that protect people and animals, while providing humane animal care. By collaborating with community partners, they are able to expand their programs and resources to provide even greater value to their residents. Their predecessor agency, King County Animal Control, was established in 1972 to provide animal services and public education to most of King County. Re-energized in 2008 with a directive to improve animal outcomes and increase efficiency, KCAC dramatically increased the number of animals rehomed each year. In 2010, Regional Animal Services of King County was formed as a partnership between King County and more than two dozen cities to improve animal welfare in their region. Today, RASKC provides services to nearly one million residents living in 24 cities and unincorporated King County. With help from city partners, more than 100,000 cats and dogs are licensed with RASKC annually. RASKC animal services officers cover a territory of more than 1,100 square miles, an area nearly the size of the state of Rhode Island. The Pet Adoption Center staff and volunteers give thousands of animals each year a second chance by providing quality care while they wait for their forever homes.
Marcy Goldstone is an Animal Control Officer for the Regional Animal Services of King County, in Western Washington. She began her career in Animal Services in Colorado in 2013. Prior to that, she was a public school teacher in Virginia for 10 years, earning her BFA in Art Education from the Virginia Commonwealth University in 2003, and her MA in Educational Leadership and Administration from the George Washington University in 2009. Marcy has a strong interest in humane public outreach and community problem solving, in addition to animal sheltering.
Seattle Humane
Seattle Humane is a private, non-profit shelter located in Bellevue, Washington. They take in over 8000 animals/year and maintain a 98% LRR. Transfers make up more than 2/3 of their intake population, with the rest coming in via owner-surrender. In addition to pet adoption, their organization offers low-income public spay/neuter services, a pet food bank program, public dog training classes, and educational programs for youth.  They host 4th-year veterinary students for 2-week shelter medicine rotations through their partnership with Washington State University and, in 2018, they added a shelter medicine internship for graduate veterinarians that is run by their Medical Director.
Juli Ross is the Director of Animal Services at Seattle Humane. Juli has been at SH since 2012 and has been in her current role for two years. Prior to that, Juli was Cat Program Manager and Cat Foster Coordinator. Before coming to SH, Juli got her Bachelor's degree from Washington State University and law degree from University of Oregon. Juli has always been passionate about sheltering and started volunteering as a kennel cleaner in a shelter on her 18th birthday. She volunteered throughout her college but it was her first paid job in sheltering that made her think of it as a career. In that year between college and law school, Juli worked as an adoption advisor and it was the hardest and best job she'd ever had. Every day was different and exciting. After law school, she began looking at sheltering as a career and was fortunate to land at Seattle Humane. Her favorite things about sheltering are the constant progress and change and the amazing and inspirational people. When not at work, Juli and her husband live with four cats, five hens, and their beloved senior dog, Lucy. Juli loves to foster everything from neonate kittens to senior dogs. She enjoys hiking, camping, drinking NW microbrews, spending time with her family, and taking naps.
Lisa Drake is the Chief Operations Officer at Seattle Humane. She joined the organization in 2011 after spending 10 years working in small animal general and emergency practices. While at Seattle Humane, Lisa has also served as the Veterinary Services Manager, as well as the Clinic Director. Lisa holds a bachelor's degree from the University of Washington and obtained her LVT license in 2006 after graduating from Pierce College's Veterinary Technology program. Seattle Humane was Lisa's first exposure to the sheltering world and she was instantly hooked by the way that the unique challenges of balancing herd and individual health kept her problem-solving abilities constantly engaged. Promoting and protecting the human-animal bond has always been at the heart of her career path, and she is grateful to have found a field that provides the opportunity to explore new ways to continue to pursue this passion. Outside of shelter life, Lisa enjoys traveling, being constantly amused by her husband and their cats, watching football, and (like your typical PNW native) spending as much time in the mountains as possible.
Stafford Animal Shelter
Stafford Animal Shelter (SAS) is located in Livingston, Montana – the gateway to Yellowstone National Park. It is a private no-kill shelter that assists on average 1,200 animals a year and accepts all pets in need regardless of age, species, breed or medical condition. With no length of stay restrictions, animals are welcome to stay until they find their forever homes no matter how long it takes. As the only nonprofit animal care facility in rural Park County, the shelter serves the people and pets of the greater Southwestern Montana community including Gallatin, Sweet Grass, Stillwater, Meagher, Fergus counties, and beyond. SAS is the only shelter in the region that accepts all lost or unwanted pets, not just dogs and cats. They have a "Zoo" to care for a wide range of pets from exotics to rodents to birds to small mammals. They also serve as the care facility for animals running at large, cruelty cases and emergencies through the city, and county animal control officers and law enforcement. Stafford is able to handle animals with infectious diseases in their newly added isolation facility, "The Bon K9 Rescue Center". This is where they can administer lifesaving treatments for parvo, distemper, giardia, ring
worm, etc. They have community outreach programs to help keep pets with their people such as "Senior Assistance Fund", "Veterinary Assistance Fund", "Guardian Angel Fund", and "Pet Food Pantry" all set up to serve families who have fallen on hard times due to failing health, economic factors, or have been displaced from their homes due to a variety of reasons ranging from domestic abuse to wildfire evacuation. Of all the animals taken in, approximately half are reclaimed and half are adopted. Every adoptable cat, dog, kitten, and puppy is spayed or neutered, vaccinated, dewormed, and microchipped prior to adoption to help control the pet population and ensure healthy community pets.